A Comprehensive Clinic in the City
Our general practitioners can treat and consult for patients of any age and most conditions
(Specialists from all disciplines are not on staff full-time)
Meeting the medical needs of Tokyo's business community
Internal Medicine
We offer a full range of general practice services and can treat most conditions including colds, fever, gastrointestinal problems, asthma, allergies, diabetes, high blood pressure, hyperlipidemia, etc.
Outpatient Surgery
We can treat cuts and abrasions, burns, digital injuries, joint and back pain, general or acute pain and injuries and suture wounds.
Pediatrics
We can see children for most common conditions such as sudden fevers, stomach pain, diarrhea, vomiting, coughs, runny noses, asthma, eczema, hives and can administer vaccinations.
Dermatology
We can treat most skin conditions including hives, inflammation, itchiness, insect bites, blisters, rashes, eczema, dry skin, warts, fungus, etc.
Tokyo Business Clinic Concept
Comprehensive services tailored to the needs of the Tokyo business community
concept1
Always Open
We are open 7 days a week from 9am to 9pm for walkups or by phone or web reservation.
concept2
Conveniently Located
We are less than 3 minutes from Tokyo Station (Yaesu exit), Nihombashi Station, and Otemachi Station (B10 exit) in the historic Tekko Building on Floor B1.
concept3
Comprehensive Services
We treat, consult, and prescribe for a wide ranges of conditions and needs, and offer services including shots and vaccinations. We can take patients of any age and can communicate in English.
What Makes Tokyo Business Clinic Unique
Servicing the business community's many needs
Your Regular Doctor
Our general practitioners can provide comprehensive treatment to patients of all ages in strict accordance with international guidelines. We are ready to serve you any time of day for any condition.
Common Conditions
High blood pressure, diabetes, hyperlipidemia and other lifestyle diseases
Influenza and other viral diseases
Hay fever, eczema, and allergies
General Consultation
"I got a warning on a recent physical – should I get it checked out or just wait and see?", "I need some advice about an ailing family member." – Whatever you want to ask about, we can advise and introduce you to an appropriate hospital or specialist.
Traveler Services
We can provide vaccines for tetanus, hepatitis B, rabies, and other region-specific risk diseases, and prescribe preventive medicines for altitude sickness, malaria, nausea, etc.
Multilingual Support
We have English speaking staff on site at all times, and can provide support in Chinese and Korean. We can treat acute illnesses during travel to Japan and take over existing prescriptions from your home country during you extended stay.
About the Doctor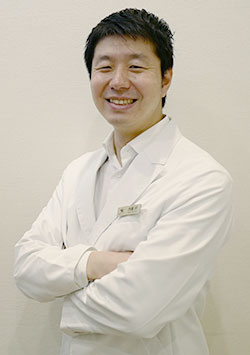 DoctorSho Naito
Graduated from Kitazato Medical School
Trained in general practice while serving as an emergency doctor at Okinawa Prefectural Central Hospital
Practiced at Iriomote-Seibu Clinic as a remote island physician
After years of serving an entire island community I learned the importance of having a trusted doctor nearby and always available – Now I aim to fill that role in the city for the business community.